A Summer's Evening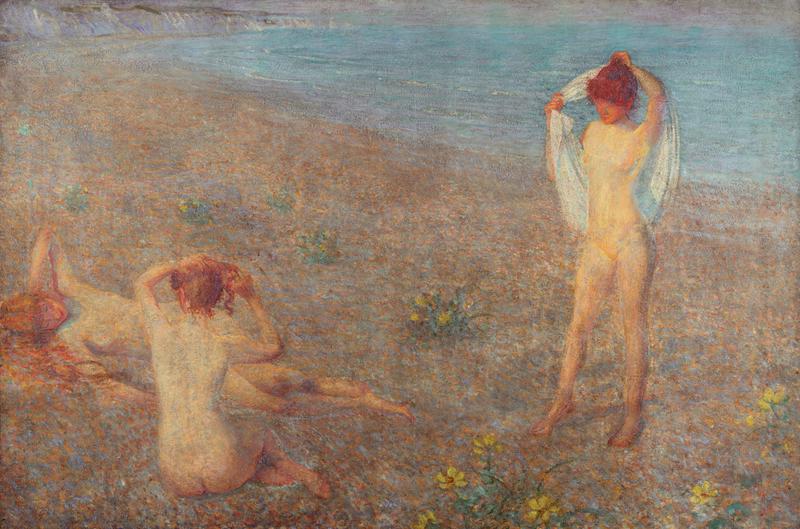 Philip Wilson Steer
(1860-1942)
A Summer's Evening
Oil on canvas
146 x 228.5cm., 57½ x 90in.
Private Collection c/o Grant Ford Ltd
Exhibition
London, N.E.A.C., April-May 1888, no.78
Brussels, Les XX, 1889, no. Steer I (as Soir d'Eté)
Munich, Galaspalast, 1889
London, Royal Academy, Post-Impressionism, November – March 1980, no. 345
London, Browse & Darby, Philip Wilson Steer, 1985, no.3
London, Tate, Exposed: The Victorian Nude, 2000-01, no.182
One of the most academically important works by Philip Wilson Steer, A Summer's Evening is physically large and is not only the artist's first major work in a fully-fledged divisionist manner, but also possibly the first by any British artist.
Steer's series of sun-drenched beach scenes in Walberswick and northern France evoke the techniques of Impressionism and in places, experiment with the pointillist technique of neo-impressionism. A Summer's Evening is an intense experimental departure from Steer's overture to Impressionism, indebted to the style of Monet, Sisley and Pissarro, but with Steer's singular response to the form and colour of his chosen subject. D. S. MacColl, Steer's biographer and friend, recorded that Steer's technique in oils, 'varied from rough palette-knife impasto to the tenderest caressing with a sable.'
In the summer of 1884, Steer had returned from Paris where he had been a student for the previous three years. His use of a technique that closely echoed the current trends marked A Summer's Evening plainly as a work aware of the latest moves in Paris. Steer had completely departed from the established manner of painting in England at the time. He endeavoured to produce a work which was a direct statement of his vision of modern painting by assimilating a variety of different influences. A number of comparisons have been drawn by commentators with the example of Seurat who from the mid- 1880s had developed a style that both moved with and against the impressionism of the 1870s. A Summer's Evening is a work which follows a similar path, and close inspection of the painting itself reveals marked differences in the handling across different areas of the canvas. Steer's interest had turned to the emergence of the new 'scientific' and experimental impressionism exemplified in Seurat's Un dimanche à La Grande Jatte (1884, The Art Institute of Chicago).
The three figures in the painting were possibly modelled by the same woman which is a motif that Steer employed on several occasions. This is also the case in Seurat's Les Poseuses (1886-88, Barnes Foundation, Pennsylvania) which depicts three life-size figures - all the same model – stiffly drawn in models' poses all from different angles.
A Summer's Evening was hung in Belgium at the avant-garde Les XX exhibition of 1889 alongside Seurat's Les Poseuses. There was much attention given and comparison made between the two by the liberal Belgian press. A critic writing for l'Éventail (2 February 1889) wrote: 'Laissons charaviser, les Seurat, Les Steer, les Pissarro et les Gaugin. Ils y arriverent, peut-être, à leur tour.' Thus, placing Steer in the same bracket as pre-eminent, innovative neo-impressionists. Whilst the differences between Steer's and Seurat's two canvases are quite clear, it is apparent that both artists were aiming for a synthesis of the currents of contemporary modernism that would shape the course of art for the next two decades. The divisionist technique of Pointilism was informed by scientific theories of light, colour and optics. It was scandalous at the time and criticized for being cold, methodical and unable to represent life and a technique that certainly could never be applied to noble subjects such as the nude.
The size of Steer's canvas suggests that surely Steer wanted to make a statement with his haunting, experimental piece. Like Seurat's major works, it precludes a plein air approach and the arcadian idyll of the nymph-like bathers belies any suggestion that it might be a real-life scene although superficially it might look like one. The subject matter related more to the French tradition of poésie painting: an idyllic arcadia of sensual delight. This was also a way of declaring no subject matter or narrative and no symbolic theme beyond the general note of sensory pleasure. It is interesting to think of Steer's later 'Watteau-esque arcadian' landscapes and nudes in this context. The theme of bathers is frequent in paintings of the 19th century and A Summer's Evening feels akin to the pastoral, otherworldly arcadia created by Puvis de Chavannes (1824-1898) who invented a poetic style, founded in the tradition of classical art which was particularly influential with Seurat, Gauguin, Cézanne, Matisse and Picasso.
In many quarters Impressionism was ill-received and derided in the British press. Perhaps now it is difficult to understand the consternation that it provoked amongst reviewers. Steer's exhibit of A Summer's Evening at the NEAC in April 1888 fared badly and it is clear that the divisionist technique shocked the audience. Steer was bitterly discouraged by the criticism. D. S. MacColl quotes Steer's friend, Ronald Gray: '[Steer] said that he really felt like chucking painting because he never sold a picture and each time he exhibited he was abused.' (MacColl, Life, Work and Setting of Philip Wilson Steer, London, 1945, p. 27). Lucien Pissarro wrote to his father Camille, 'He separates the tones as we do and is very intelligent; here at last is an artist. Only he has doubts because the others make fun of him…'. Fortunately, Steer managed to put his doubts behind him and he continued to paint, always following his own path and internal momentum and encompassing different influences, styles and techniques, often utilised at the same time. The evolution of his work is complex, potentially confusing and hard to categorise. He embraced a plethora of influences from Whistler to Monet, Pissarro to neo-impressionism in an effort to find his own coherent style. He was an experimental artist and his legacy is such that, as Kenneth McConkey states, it is 'essential to the validation of British paintings as a deviant offshoot from the mainstream.' (Kenneth McConkey, British Impressionism, 1989, p. 20).
© Copyrighted Material - Express permission is required for use / duplication of this work.