Noon in the Hayfield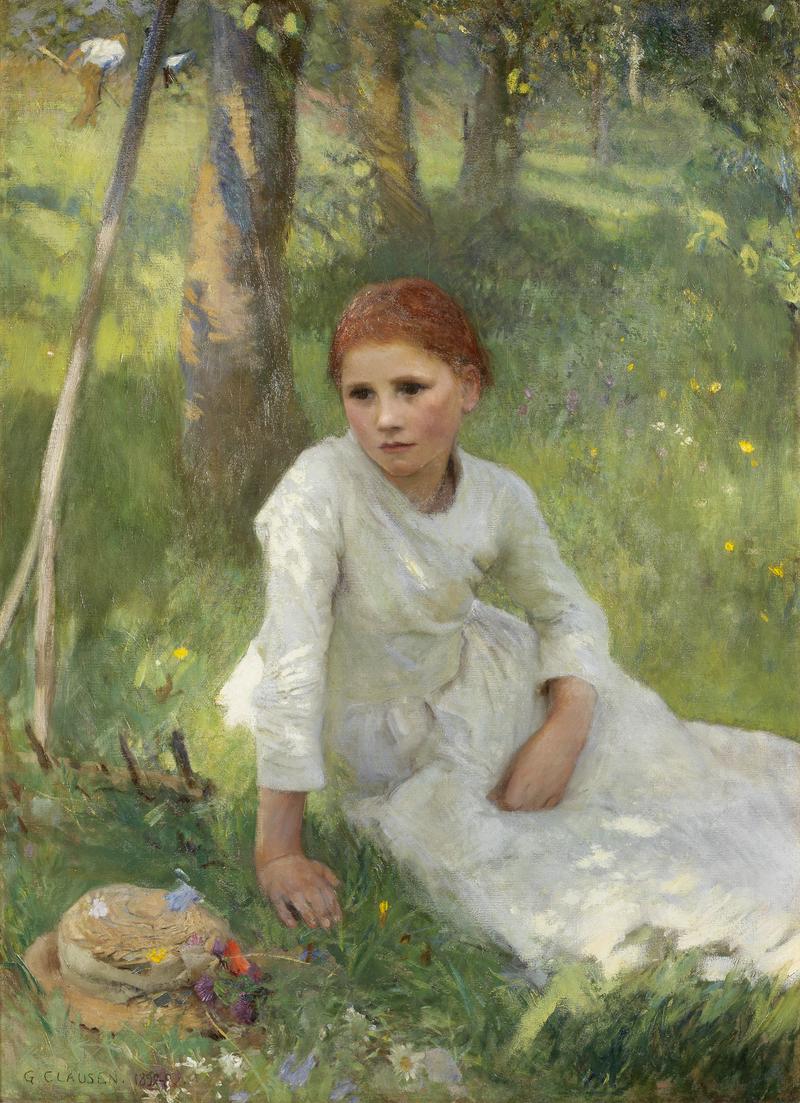 Image Courtesy of Bonhams
Sir George Clausen, R.A., R.W.S., R.I.
(1852-1944)
Noon in the Hayfield
Signed and dated lower left: G CLAUSEN. 1897-8; further signed and titled on the reverse
Oil on canvas
117 x 85cm., 46 x 33in.
Private Collection c/o Grant Ford Ltd
In this beautiful painting of one of Clausen's favourite models, Rose Grimsdale, rest, reverie and the sunlit glow of field and wildflowers combine to produce one of the most satisfying visions of the English countryside at the end of the nineteenth century. Clausen's work contains sentiment but it is not sentimental. His art always conveyed a poetical appreciation of the natural world akin to the literary works of Thomas Hardy. Clausen's observations of rural life were accurate but by the late nineties it had become clear that he and his French and British contemporaries were not so much recording the occupation of the country labourer as bolstering a threatened way of life. It was this powerful sense of nostalgia – of a stable society under threat - that kept the image of the country girl in focus as plein air painting moved ever closer to Impressionism. The painting symbolises humanity in its natural state, representing the youth and innocence of a rural childhood.
Some of Clausen's earliest preoccupations are reflected in this painting. These stretch back to 1880 when, in his late twenties, he witnessed the new French Naturalism of Bastien- Lepage's Les Foins, (Musée d'Orsay, Paris), the great picture of resting haymakers, then on show at the Grosvenor Gallery. It, as much as anything, prompted Clausen's move to the country the following year, at a time of great unrest in the countryside. Labouring families had been drifting to the burgeoning industrial centres for several generations and a crisis was fast approaching. For many landowners, it was exacerbated by tighter regulation that affected the employment of children at key points in the year. While the Education Act of 1880 demanded compulsory school attendance for all children up to the age of ten, it was not unusual for classrooms to be empty during the months between June and September. The hay harvest – 'haysel' – in which boys and girls were required to follow the mowers, started the work cycle. Their job was simply to rake the fallen grass into 'haywakes' to aid the drying process. Many farmers preferred this hard, labour-intensive method to that of the horse-drawn mowing machines and swathe-turners, then in development which were unwieldy in smaller fields. Beginning at dawn when the grass was wet with dew and could be cut more easily with scythes, labouring gangs worked across a large field in unison, as Clausen's paintings of the period show. All hands were necessary – even those of farmers' daughters who were often compelled to leave the land for domestic service as they grew older. By noon, the time for rest, labourers and their families may well have been at work for seven hours.
Having begun to modify the mechanical 'square' brushwork of his early pictures, Clausen continued his move away from a natural realistic style and his interest in the play of light, freed his handling of colour and influenced his luminous palette and fluid approach. Sundry references in letters indicate that he had been looking critically at the work of Manet, Monet and Degas. (Kenneth McConkey, George Clausen and the Picture of English Rural Life, Edinburgh, 2012, p. 91, note 106). His visit to the Exposition Universelle in Paris proved to be a revelation and he continued the development of his own form of Impressionism. In artistic terms, this encouraged him to become more adventurous technically and his work became more atmospheric, giving greater subtlety and stronger emphasis on selective focus. Like a documentary photographer, Clausen painted Rose's features with great precision, focusing upon her face and treating the background in a more generalized way.
Clausen had been a leading figure in the radical New English Art Club which gave an alternative place to exhibit to the conservative Academy. His long career as an artist, however, saw him reconcile with the Academy when he became an Associate in 1895, a full Academician in 1906 and he was knighted in 1927. He became Professor of Painting at the Academy and gave a series of very successful lectures. Adaptability was one of his characteristics and he had enlightened sympathies with the modernist movement.
Clausen was happily married to Agnes, herself a painter, and they had four children. Following their marriage in 1881, they settled first in Berkshire and then in Essex where the surrounding scenery inspired much of his work. Clausen was 'quiet, modest, kindly and of courtly manners' (Grimsditch, Clausen, Sir George (1852-1944), Oxford, 1959). He died, aged ninety-two, in Cold Ash, near Newbury, in 1944, just seven months after his wife Agnes. On their tombstone is the inscription: 'They came to this village during the war and died here. He would have chosen to rest in the Essex countryside that he loved and painted. She would have chosen to be wherever he was.'
© Copyrighted Material - Express permission is required for use / duplication of this work.