Spotlight: Hamish Mackie
> Page Permalink
In the studio with Hamish Mackie
Based at his home and studio in Hook Norton, Oxfordshire, Hamish Mackie has been at the forefront of animal sculpture for many years. His professional career as a sculptor began in 1996 during his first visit to Africa.
Q. How important is it to you to be able to go to an animal's natural environment?
A. "It's almost impossible to get a proper understanding of the subject without. It's also much more inspirational. Feeling an elephants rumble at close quarters for the first time has to be a highlight".
Q. What materials do you use? And do you have a preference?
A. "I Sculpt most of my originals out of clay or plasticine which are then cast into bronze. I love the fact I can stick my finger prints into a soft clay and this detail can be captured by Lockbund Foundry".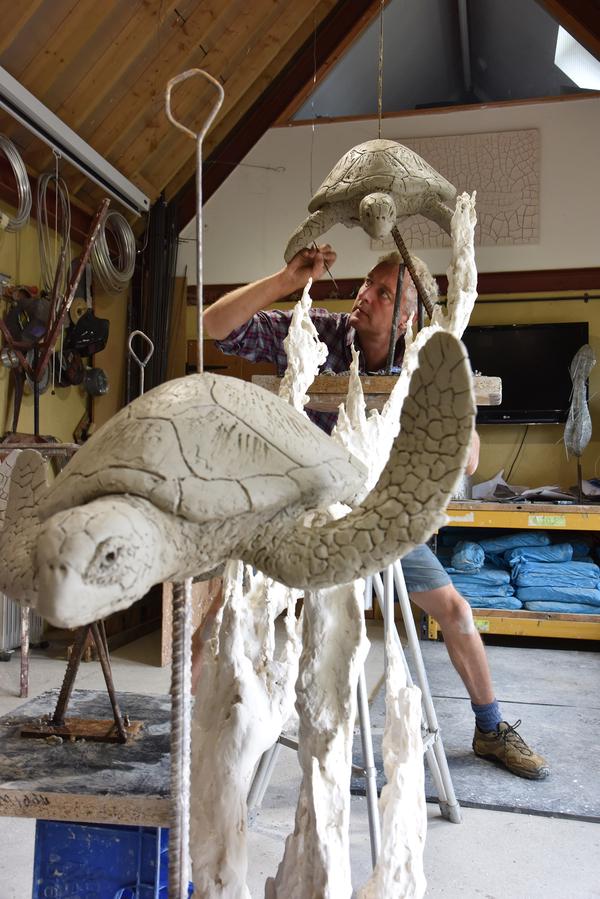 Q. Can you tell us about your process? Are there any parts that you love or any parts that you dislike?
A. "The process of lost wax casting hasn't changed much in 6000 years. I have always enjoyed a technical challenge and particularly making large scale sculpture. I dislike the fact that bronze casting is such an expensive game'".
Q. Any materials you have not experimented with but would like to try in the future?
A. "I'm always interested in de-pigeon holing myself so open to all ideas! I have recently been given some ammolite by the Korite mine in Canada to make something out of".
Q. How do you go about capturing the essence of your subject?
A. "Before starting any sculpture I like to get the subject in my head so I have a good understanding of why it's like it is. Travel is an integral part of this research, I've recently been to Sweden to observe Moose".
Q. How do you know when a sculpture is complete?
A. "When I'm brave enough to leave it alone. There's a thin line between loose mark making and a hole. Every piece of the surface should have a purpose".
Q. What keeps you inspired to keep making sculptures?
A. "I'm incredibly lucky I have made a living out of a passion".
by Alison Patterson
Main Photo by Russell Sach